Customer Service Professional
Customer Service Professional course for delegates aspiring to secure a career in one of the many service industries such as retail, hospitality, hotels, airline, leisure and tourism. All the sessions are positioned for new joiners who have had no previous professional training.
This course is also suitable as a CPD for professionals, as professional customer service skills are essential for companies growth.
Our Customer Service course is engaging, inspiring, fun, interactive and relevant to the specific scenarios that clients can face. 
"They may forget what you said or did but never forget how you made them feel"  Maya Angelou
This 3 day course will give you all the skills to become successful job candidate.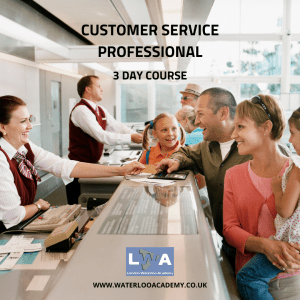 If you are passionate about providing excellent customer service and feel you would derive great job satisfaction from a professional career providing individualised and intuitive service to the customer then this course is designed for you.
Our 3 day Customer Service Course will equip you with the knowledge and tools that you need to excel at connecting with customers from many different cultures and from all walks of life. You will
gain confidence in delivering effective service recovery to retain customer loyalty and goodwill. You will understand the science behind truly inspirational communication and the art of creatingrapport to promote genuine, authentic relationships with your customers
Topics:
Introductions and expectations
Fundamentals of Customer Service
The Art of Communication
Being People who Care
Leadership and Teamwork
Building Customer Rapport
Cultural Awareness
Special Need Customers

Service Recovery

Transactional Analysis
Assertiveness

Conflict Management

Break away Techniques
Duration – 3 days
Date: tbc
Lesson Time – 9am to 5pm
Fees – £430
Certificates provided
DAY 1
Course Introduction – Introductions and expectations, Health and Safety, Working Agreement, Timetable 
Fundamentals of Customer Service – To identify the 2 elements of Customer Service and strongest customer satisfaction drivers/influencers. 
The Art of Communication  – To explore how we communicate and create positive shared outcomes by authentically connecting with the customer. (2 hours)
Being People who Care – Awareness of Service Styles and their impact on the customer. 
Leadership and Teamwork – To understand each others roles to avoid complacency and promote synergy. (30 mins). This session is an add on if time available 
DAY 2 
Building Customer Rapport – To discuss essential elements to create more personal relationships with others and use listening and observation skills to enhance rapport. 
Cultural Awareness – To create an understanding of other cultures to adapt our service helping these customers feel valued and "at home".  
Special Need Customers – To recognise how as service providers we can help customers with both visible and hidden disabilities. 
Feedback – To explore how and when to use feedback and recognise the benefits of asking for and giving feedback to enhance performance. 
DAY 3 
Service Recovery – To illustrate the importance of sincere efforts to find a resolution when customer expectations are not met. 
Transactional Analysis – To give a basic understanding of the 3 different ego states to choose a compatible response. ) This session will be delivered depending on the ability of the group. 
Assertiveness – To differentiate between assertive and aggressive behaviour exploring strategies for dealing assertively in challenging situations.  
Assertiveness Practical – To practice assertive behaviour through role play in realistic scenarios. 
Conflict Management – To identify the reasons and signs of disruptive behaviour and build confidence utilising de escalation techniques. 
Break away Techniques – To be confident and practiced at using 9 passive breakaway techniques (Metropolitan Police)
Course Close – Recap and reflection. Motivational video demonstrating excellent customer service and the "halo effect"
Duration – 3 days
Date: tbc
Lesson Time – 9am to 5pm
Fees – £430
Certificates provided
Course delivered by Professional instructor with over 35 years of experience in Customer Service Industry.
Duration – 3 days
Date: tbc
Lesson Time – 9am to 5pm
Fees – £430
Certificates provided
Location: The Foundry, 156 Blackfriars Rd, London SE1 8EN (Southwark Station (2-3 min walk) and Waterloo/Blackfriars Station (10 min walk))

Free services: WiFi,  tea/coffee/water refill, biscuits, candies