Virtual Airline Cabin Crew Course
Virtual Airline Cabin Crew which is also known as Air Hostess, Flight Attendant and Stewardess course – Join your lesson from wherever you are. 
This intensive 9 weeks Virtual Airline Cabin Crew course will give you all the information and tools you will need to become successful job candidate.  
98% Employment rate after completion of the course.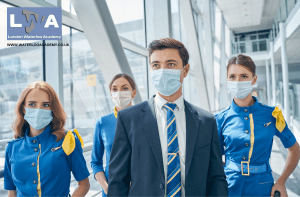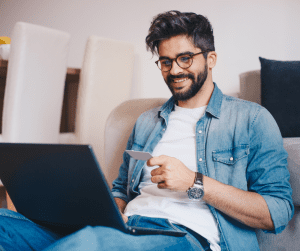 How will you learn?
Apart of our traditional class-based tuition, we also offer Virtual Learning courses.
On our Virtual (live stream via Zoom) lessons, we provide the same quality of tuition as in the classroom. You only need a laptop, PC or tablet with either built in (or external) camera and microphone. The virtual platform is very interactive with a sense of real classroom at the Academy. You will study from the comfort of your own home and communicate with your tutor and classmates via video chat (by using your phone or computer camera) and you will receive outstanding tuition, qualification, and certification.
We provide A-Z guidance starting from before and after the course. Your tutor will guide you through the online course to graduation which you will be welcome to attend. What a joy it would be to meet your tutor and classmates in real life!!
You will have:
According to the timetable- 1 lessons per week for 9 consecutive weeks.
Exams and final exam based on which the certificate will be issued.
On successful completion you will hold: Airline Cabin Crew certificate in Current Airline Training Standards and Equipment. 
What is Flight Attendant?
Flight attendant/Airline Cabin Crew/Stewardess/Air Hostess are the most visible, glamorous jobs of all airline employees. A Flight Attendant is someone whose primary duty is to ensure the safety and comfort of passengers during a flight. They are members of an aircrew team , who operate a commercial, business or even military aircraft while travelling domestically or internationally. 
Flight Attendant benefits:
Getting paid for travelling the world

Lifestyle
Flexible Work Schedules
Meeting Interesting People
Free Food & Accommodation
Excellent Compensation
The uniforms
Working Environment
How to become successful Flight Attendant job candidate?
Our Aviation Team understands each candidate who wish to become Airline Cabin Crew or start a career in Aviation.
Airline companies look for individuals who share their values and can act as ambassadors for the company's brand. Cabin Crew are the face of the airline company which means they deliver a fantastic service that makes airline world famous.
Airline companies prefer candidates with knowledge of Cabin Crew role. Airline companies have selection day or online tests as a first stage of recruitment, after which, they will take a closer look at applicants CV, skills and experience. If you completed Airline Cabin Crew course, your application will stand out and you can get an offer from the first round. 
Student – Cabin Crew Flying Support Group
As a market leading Airline Cabin Crew Training Company with a wealth of experience in Aviation and recruitment, we constantly upgrading our course and going extra nautical mile to guide and support all our students to ensure they can reach their goals. Graduates who are already flying, offer their full support to us and new students. They share an insight of the airline they already fly with, and help new students through the process of joining them at that airline. It gives a flying start to a career to new learners. 
Top Airline Cabin Crew course provider in London
98% Employment rate after completion of the course
Individual support on the journey from the course to a job placement
With years of experience in Airline Cabin Crew industry, London Waterloo Academy has been recognised by major TV, radio channels who have invited our Aviation Team for expert advice or interview.
We are recognised by major airline companies in Europe and overseas who have approached London Waterloo Academy to deliver internal cabin crew training, corporate training and to recruit our graduates as a result of their high qualification standards and knowledge.
Our graduates are now flying with Etihad, Saudi Air, Hainan Airlines, Small Planet, British Airways, Qatar, EasyJet, Thomas Cook, Ryanair, Cubana de Aviación, Air France,Titan, Norwegian B737 Short Haul

 

and many more.
We will enhance your CV
Guidance through the job application process (free of charge)
Gain an insight into the airline selection process and final one-to-one interview
The vast global experience of our instructors
This course has been developed in accordance with EASA PART-CC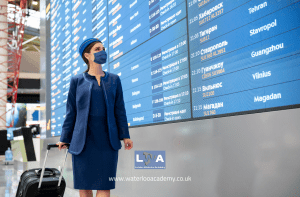 Working together – Starting a new career isn't easy and often it can seem like a lonely and impossible process. Our Aviation Department stays behind each learner, supporting every step of the way, we give you all the tools, skills and assistance you need to succeed. Our success, built on the success of our students and a long list of graduates with successful stories.
Course Entry Requirements:
English Language at B2 (CEFR) level or above.
There are no other special requirements for this Airline Cabin Crew course. We will teach you from scratch and support after the course when applying for the job. This course has been developed for all candidates, independent of their background, wishing to start a new career. 
Dates (choose one for your  course):
9 November 2023 – 4 January 2024, Thursday classes
17 January 2024 – 13 March 2024, Wednesday classes
20 February 2024 – 16 April 2024, Tuesday classes
10 April 2024 – 5 June 2024, Wednesday classes
4 June 2024 – 30 July 2024, Tuesday classes
18 September 2024 – 6 November 2024, Wednesday classes
14 November 2024 – 9 January 2025, Thursday classes
Course duration – 9 weeks
Classes – once a week 
Lesson Time – 10am to 5pm – London time
Course fee – £529 (we offer flexible payment plan and accept weekly instalments)
Registration fee – £300  (includes: examination,  Airline Cabin Crew certificate in Current Airline Training Standards and Equipment)
We also offer:

Class based Airline Cabin crew course – 10 weeks including practical training

18 weeks, evening lessons, Virtual (via Zoom) Airline Cabin Crew course
VISIT OUR YOUTUBE CHANNEL
HERE
Virtual Airline Cabin Crew, also known as Air Hostess, Flight Attendant and Stewardess online course, also known as: Air Hostess, Flight Attendant and Stewardess training.
This online course will  give you all information and tools you will need to succeed. Being a member of an airline cabin crew team, also known as a flight attendant or air steward, is considered an exciting and glamorous job, and there are many highly important aspects to the roles and responsibilities it entails, not least when considering that cabin crew act as the first and main point of contact for passengers while in flight, whether for safety or customer service reasons. For these reasons, our students are highly and rigorously trained before completing their course and moving on to employment.
With many industry links and expert, highly experienced staff, we have full confidence that our virtual online course will lead you quickly to a career in the sector.
On completion of the course, each candidate will possess the full skill set necessary for future success and will be ready to meet the standards and requirements of industry employers globally.
London Waterloo Academy remains in touch with each graduate offering extra support where necessary and at no extra cost.
We will enhance your CV, guide you through the process of completing online job application and support you as you prepare for your interview
Airline Cabin Crew need to be able to act quickly and confidently in all safety and emergency situations. Safety is our number one priority and this is evident in the way we conduct our training.
Airline Cabin Crew online training includes:
Survival and wet drills'
S.E.P standard emergency procedures
S.O.P standard operating procedures
Aviation security
Aircraft slide decent
Fire and smoke including fire fighting equipment
Aviation first aid including CPR and Defrib
CRM crew resource management
Dangerous goods awareness
Airline Cabin Crew course topics include:
History and Theory of Flight
Meteorology
Wet Drills
Survival
Crew Resource Management
Fire and Smoke Theory and Practical
Security
Dangerous Goods
Aviation First Aid
Standard Operating Procedures
Standard Emergency Procedures
Progression courses:
VIP Corporate Flight Attendant
EASA CCA Cabin Crew Attestation course
At London Waterloo Academy, course fee is kept affordable. We offer flexible payment plan – no extra charge on top of the installments.  
Dates (choose one for your  course):
9 November 2023 – 4 January 2024, Thursday classes
17 January 2024 – 13 March 2024, Wednesday classes
20 February 2024 – 16 April 2024, Tuesday classes
10 April 2024 – 5 June 2024, Wednesday classes
4 June 2024 – 30 July 2024, Tuesday classes
18 September 2024 – 6 November 2024, Wednesday classes
14 November 2024 – 9 January 2025, Thursday classes
Course duration – 9 weeks
Classes – once a week 
Lesson Time – 10am to 5pm – London time
Course fee – £529 (we offer flexible payment plan and accept weekly instalments)
Registration fee – £300  (includes: examination,  Airline Cabin Crew certificate in Current Airline Training Standards and Equipment)
Click here to Register for the course or email us to info@waterlooacademy.co.uk
We also offer:

Class based Airline Cabin crew course – 10 weeks including practical training

18 weeks, evening lessons, Virtual (via Zoom) Airline Cabin Crew course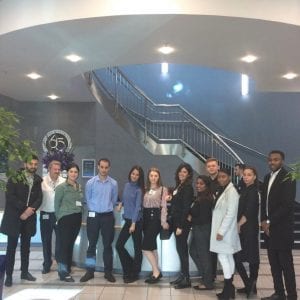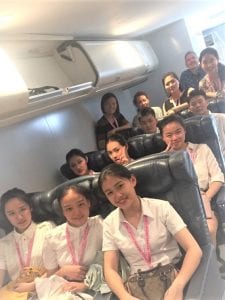 Top Airline Cabin Crew course provider in London
98% Employment rate after completion of the course
Individual support on the journey from the course to a job placement
On our Virtual lessons, you will have the same quality of tuition as in the classroom. 
During the lessons you will interact with the tutor and classmates via video chat. The virtual platform is very interactive with a sense of real classroom at the Academy.
Our graduates are now flying with Etihad, Saudi Air, Hainan Airlines, Small Planet, British Airways, Qatar, EasyJet, TUI, Ryanair, Cubana de Aviación, Air France,Titan, Norwegian B737 Short Haul and many more
This course has been developed in accordance with EASA PART-CC
Dates (choose one for your  course):
9 November 2023 – 4 January 2024, Thursday classes
17 January 2024 – 13 March 2024, Wednesday classes
20 February 2024 – 16 April 2024, Tuesday classes
10 April 2024 – 5 June 2024, Wednesday classes
4 June 2024 – 30 July 2024, Tuesday classes
18 September 2024 – 6 November 2024, Wednesday classes
14 November 2024 – 9 January 2025, Thursday classes
Course duration – 9 weeks
Classes – once a week 
Lesson Time – 10am to 5pm – London time
Course fee – £529 (we offer flexible payment plan and accept weekly instalments)
Registration fee – £300  (includes: examination,  Airline Cabin Crew certificate in Current Airline Training Standards and Equipment)